Simple Knitted Slippers
Written by Arch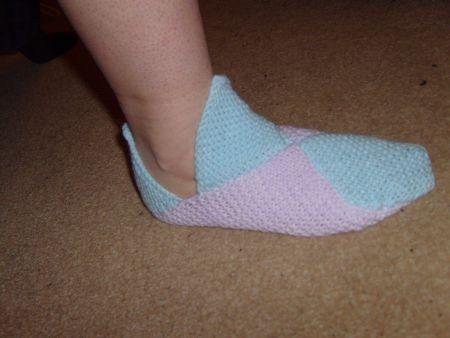 These lovely slippers can be made by anyone who can knit tension squares. Arch tells us how, and tells us that explaining it is more complicated than actually doing it. Don't be scared, have a go. Let us see your results in the forums, which is where you will get an answer to any questions too
These are really simple to knit, making them ideal for a beginner's project or to use up odds and ends of yarn. A pair should use about 50g of DK yarn in total. If you can cast on, knit, cast off and sew up, you can make these. They are useful for travelling, as they fold flat to pack in your suitcase.
Each slipper is made of one large square and three small ones. You could knit them all in one colour, or do the large square in one colour and the small in another, or any combination you fancy. Once you see how they make up, you'll see what variations you can make. The pattern as my Mum had it written down called for DK yarn and 3.75mm needles. I found this made a snug fit on my size 5 foot. 4mm needles would make it a bit looser if you prefer – but they will loosen up a bit with wear anyway. You can adjust the size easily enough. The length of the foot is the diagonal of the large square, so you can use your Pythagoras theorem to calculate the stitches required. I've calculated a few sizes for you at the end. For a size 5 foot you will need a large square of 16cm along each side and three 8cm squares. Using 3.75mm needles and DK yarn, cast on 32 stitches for the large square. Working in garter stitch – knit every row – work until you have a square, when work measures 16cm long. I made this 54 rows – you can check easily by folding a bottom corner up to the needle until you can make a triangle with no overlaps. When you have a square, cast off.
Cast on 16 stitches for the small square and knit in garter stitch until you have a square – about 30 rows. Cast off. Repeat twice more to produce three small squares. Then join the three small squares to the large one, using a suitable seam like mattress stitch – you want a nice flat edge to edge join. They attach in this pattern:
Once they are joined up, you can join the seams. Looking at the plan, you'll see lettered points. You join the letters up – A to A, B to B, D to D etc, seaming as you go.
First seam – Join A to A, and B to B, seam from C to A to B
Bring D to meet D, and seam from B to D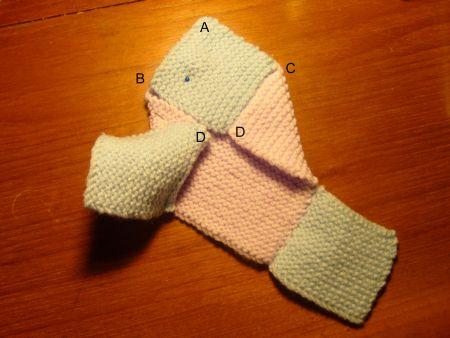 Join F to F, seam G to F
Join E to E, seam D to E
And there you have a slipper!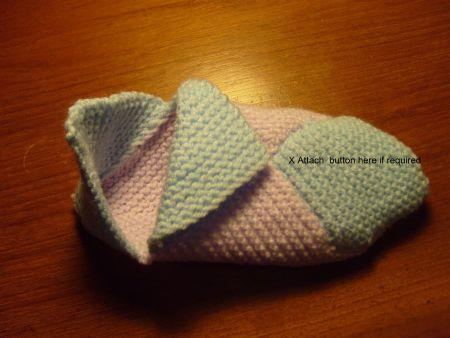 It seems a bit complicated written down, but it makes sense when you have it in your hand. Then simply repeat for the other slipper.
You could leave the flap at the front of the ankle to stick up, or you could attach a loop of plaited yarn, crochet chain or ribbon to the point, and a button to the top of the foot and fold the flap down.
If you want to adjust for a different size foot, measure the length of the foot in cm, and consult below, or work out your own hypotenuse. Just keep the small square side half the length of the large one.
For DK yarn and 3.75 needles:
| | | | | |
| --- | --- | --- | --- | --- |
| Foot length (cm) | Big Square side (cm) | Big Square Stitches | Small Square side (cm) | Small Square Stitches |
| 10 | 7 | 14 | 3.5 | 7 |
| 12 | 8 | 16 | 4 | 8 |
| 14 | 10 | 20 | 5 | 10 |
| 16 | 11 | 22 | 5.5 | 11 |
| 18 | 13 | 26 | 6.5 | 13 |
| 20 | 14 | 28 | 7 | 14 |
| 22 | 16 | 32 | 8 | 16 |
| 25 | 18 | 36 | 9 | 18 |
The beauty of this design, of course, is that it's basically a set of simple tension squares. So once you know the dimension you need, you could knit it in almost any gauge of yarn you fancy and using any needles, as long as you work out how many stitches will make up the right side length. Just remember that the large square needs to be fairly hardwearing, as it makes the sole. The smaller squares could be any fancy yarn. You can jazz it up with pom-poms, patterns knitted into the squares, anything you like! The possibilities, as they say, are endless…