How To Make Preserved Lemons
Written by Sean
What it says really. A simple and useful preserve.
Mmmm, preserved lemons, essential in North African cookery, utterly delicious and unavailable where I live. So I make my own, like this:
What you need: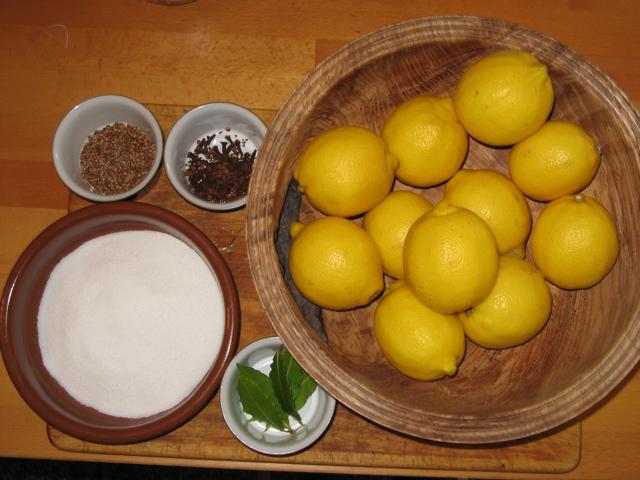 Clockwise from right: lemons, bayleaves, salt, coriander seeds, cloves. And peppercorns which I forgot to include in the picture. And a preserving jar.
People will tell you that you need to use unwaxed organic Sicilian lemons bought directly from the producer. By all means do so if you have them to hand, but ordinary lemons work perfectly well. Give them a scrub first if you like.
What you do:
Cut the lemons into eighths, squish a layer's worth into your preserving jar. Sprinkle with two teaspoons of salt. Add a bayleaf, some coriander seeds, a couple of cloves and a few peppercorns.
Repeat until the jar is pretty much full.
Squeeze the juice of some more lemons and use it to fill the jar up.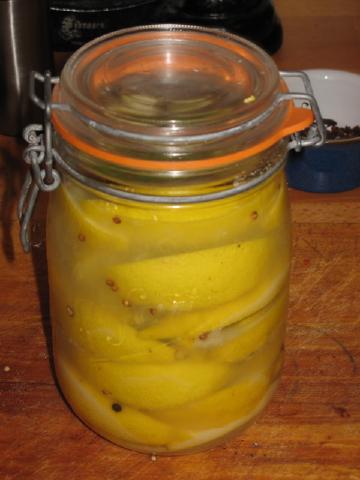 Put the jar into the cupboard under the stairs (or similar dark undisturbed place) and leave it alone for a month. Have a look at it every so often, it's never happened to me but apparently sometimes there's a bit of bubbling. If so you'll need to vent the gas.
You could use other spices if you like, nigella seeds are good.
Any questions or problems just pop in to our forum and ask.
If you're on a roll with the lemons you may also like our article about lemon curd which can be found here.
Or of course our marmalade making article which is here.