Hatching and raising chicks
Written by Chez
Hatching chickens takes 21 days. The easiest way to hatch a batch of chicks is under a broody hen. Put six or a dozen eggs under her - depending on her size - sit her somewhere where she won't be disturbed by other hens trying to lay in her nest; and like magic, three weeks later, chicks should appear.
But what if you don't have a broody? Well, you might try borrowing one. Or you could borrow or buy an incubator.
Incubating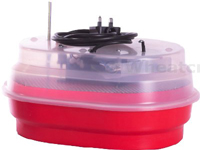 Incubators come in all sizes, from ones that will take seven hen eggs upwards. The main choice that you need to make is whether you want a manual one or an automatic. If you choose a manual one, you will need to turn the eggs twice a day for the first 18 days of the three-week hatching period. If you choose an automatic one, this will turn them for you (and you will need to stop the auto-turn on Day 18 ) - the downside is that they tend to be more expensive. However, a lot of people start off with a manual and then upgrade to an auto-turn - so there are often second hand ones for sale on poultry websites or on eBay. You can also buy kits to make your own, or build one from scratch yourself.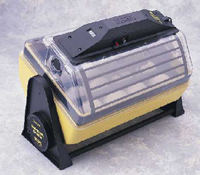 When you receive your eggs, let them rest point down at room temperature for about 24 hours before you put them under the hen or in the incubator. It is also a good idea to run the incubator for 24 hours before you put the eggs in, in case you need to adjust the temperature. Each incubator is slightly different and you will need to read the instructions to see how much water to add (to keep the atmosphere slightly humid and mimic the underneath of a hen) and how to set it up.
If you are turning manually, mark a cross on one side of each egg and a circle on the other, in pencil. You will then be able to see clearly to turn the eggs.
Candling
If you want to, after 9 days, you can 'candle' the eggs to see how they are developing. This is a good idea because discarding the 'dead' ones reduces the risk of disease and makes more room in the incubator for your hatchlings. However, some eggs, particularly dark-coloured ones, are difficult to candle.
There are all sorts of 'light boxes' that you can buy to candle your eggs - but the most simple way is to hold a small but powerful torch to the 'fat' end of the egg, so all the light is focussed inside. You should then be able to see what is going on inside.
There is a good article about candling here and another here.
The hatch
A day or so before they hatch, you might hear the chicks 'pipping' inside the eggs - starting to peck at the shells to get out. It might take 48 hours before all of them hatch - if you have enough space in the incubator, leave them in for a few hours until they dry off - they live off the remains of the yolk inside them for the first couple of days, so they don't need food or water. However tempting, DON'T keep opening the incubator to check on them! However, every few hours - four or five, say - you can open the incubator, take out and discard any broken shells and remove dry chicks and transfer them to your brooder.
Sometimes chicks DO get stuck inside their eggs and it is considered bad practice to help them out of their shells. However, I don't think I know anyone who has hatched their own eggs who hasn't been tempted to give a helping hand at some point or another. If you do do this, be very, very careful, don't do it too early and be aware that you might end up with a deformed or sickly chick - there is usually a reason that they can't get out themselves.
When you have moved all your chicks to the brooder, make sure that the clean your incubator thoroughly, ready for next time.
Brooding chicks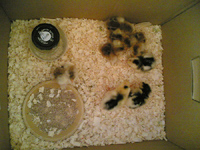 A 'brooder' is basically a warm area where you keep your chicks until they have enough feathers to survive on their own.
There are various types of brooder - the most common is a lamp on a chain, with either a special red coloured bulb or a 'dull emitter' ceramic bulb in it. You hang the lamp up, so the bulb is a foot or 18 inches above the floor and you allow the chicks space to get away from the heat if they want to. Often this is done by making a circle of corrugated cardboard 3 or 4 feet across, with the lamp at the centre. You can also hang your lamp over one corner of a large cardboard box or get special 'brooder pens' to keep the chicks in. You can also get a system called an 'electric hen' which is a heat-pad for chicks to sit under when they are cold. Someone I know broods her chicks very successfully in a cardboard box by her aga.
For more information about setting up a low-cost brooder for a dozen or so chicks, have a look at our article about designs for two simple brooders.
Temperature
If you are using a heat-lamp, the temperature at ground level directly under the lamp should be about 37 degrees centigrade on day 1. You will be able to tell whether the chicks are too hot or too cold by their behaviour. If they are too hot, they will move away from the lamp. If they are too cold, they will huddle underneath it. You can adjust the lamp up and down accordingly.
Gradually, over a few weeks, as the chicks develop grown-up feathers, you raise the lamp a few inches at a time and eventually start turning it off during the day. It's very difficult to give a rule of thumb for this, as it depends on the weather and the temperature of the building your chicks are in. For example, in a hot summer, you might be able to start putting two week old chicks outside in a pen on grass for an hour or so every day. But in February, you wouldn't. As a guide though, even in the coldest weather, I would expect to have finished with the lamp completely by six weeks and in warm weather perhaps by four weeks.
Environment
Your brooder needs to be somewhere dry with a steady temperature, free from draughts and safe from predators such as cats, rats and crows. You can keep it in a spare room in the house - but remember chicks grow quite quickly and after two or three weeks will probably start outstaying their welcome.
To start with it is very important for the chicks to have a non-slip surface under their feet. They can be subject to something called 'splayed leg', which is made worse if they can't grip properly. Put them on corrugated card (rather than newspaper) from hatching to three or four days old, or a deep layer of woodshavings.
After two or three weeks, as they get bigger, some people keep them in a greenhouse - or put them out in to a greehouse in daytime. This tends to work well in spring or autumn - if it's very warm weather the greenhouse will be too hot for them. Also, however small they are, chickens are incompatible with growing plants!
Weak chicks
Quite often with each hatch there will be one or two chicks that after a day are two are obviously not quite 'right'; nature usually takes it's course with these, but you can cull them if you want to. I prefer to leave them to it and see what happens - sometimes they survive despite everything.
Food and water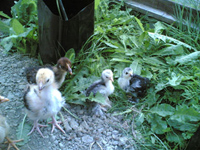 Your chicks should be fed on baby chick crumbs for the first six weeks of their lives. You can supplement this with leafy vegetables like cabbage or lettuce; or carrots or apples hung up for them to peck at. This keeps them busy and supplements their diet. Chickens are omnivores - but chick crumbs will provide them with all the nutrients they need to start with. I also give them mixed corn after a week or so.
The advantage of having them on corrugated card to start with is that if you put chick crumbs down on the card too, when they peck at them it makes a noise - this seems to encourage them to get the hang of feeding. Alternatively you can scatter the chick crumbs in an old cardboard egg box or something similar for a day or two - anything that makes a noise when they peck it.
To start with you should provide them with a shallow dish of water, that they can't knock over or drown in. A deepish saucer with some pebbles in it will work; or there are special 'chick drinkers' that you can buy.
After six weeks you should move them on to 'growers pellets' rather than chick crumbs.
Despatching Cockerels
My personal feeling is that it is irresponsible to hatch if you are not going to be able to despatch any birds that you don't want - because they are weak or because they are the wrong sex. If you can't do it yourself, make sure that you have someone you can call on to 'do the deed' for you. The ability to kill quickly and efficiently is, in my opinion, an essential part of keeping any kind of poultry.
A friend of mine was met at her back door by her cockerel who had had a run in with the fox. He was very badly injured and both she and her husband were traumatised because killing their birds in an emergency was not something that they had thought about. They coped very well under the circumstances - using a hand axe. But it's better if you have thought through the possibility that something like that might happen and have a plan in place first.
Also, what will you do if you hatch extra cockerels and don't want them for the pot? Having a plan in place, rather than just working it out as you go along, is definitely best. Many auction houses don't accept single male birds. Many auctions that DO end up selling the cockerels to cock fighters as 'practice' birds for their game fowl to get a taste for killing with. Farms where your well loved cockerel can live out his days happily are very few and far between.
Hatching is a responsibility as well as a pleasure.