Cloth nappies – a short primer
Written by Frewen
So you've decided to use cloth nappies and you've started to look around at different sorts. The range and type are bewildering and fascinating. Do you have an "all in one" nappy? Or a "shaped" nappy with a wrap? You might be a traditionalist who likes to origami-fold the terry squares known (and often hated) by our parents. If that's not your thing; rest assured that nappy pins have been replaced by little plastic grippers and there are alternatives to those crinkly plastic pants that left red marks around chubby baby thighs.
Two years ago I knew little about real nappies but by a mixture of trial, error and practice I am now juggling an 18 month toddler and a 5 month baby in real nappies. Cloth nappies are easier on the pocket and don't generate the same amount of landfill waste as disposables.
Despite the government report that suggested there wasn't much environmental difference between real nappies and disposables I believe that there were some serious flaws in the study (as who ever heard of ironing a nappy?). You don't have to tumble dry them either; although sometimes wet weather may push you in that direction.
Once you get into the swing of laundering your nappies you don't feel like you're doing any more work. You never run out of nappies and have to dash to the supermarket, and did I mention that babies look really cute with cloth bottoms? Seriously adorable.
Know your nappy.
Cloth nappies fall into several types…
Flat nappies
This is your straightforward piece of cloth which is then folded (think terry square or muslin). Very versatile, they can be folded to suit boys, girls and any size of baby. They dry quickly and are inexpensive to buy. They can be used as stuffing for the pocket nappies and as a general mop-up cloth. These kinds of nappies are usually secured with a T-shaped gripper called a "nappy nipper" or the old fashioned nappy pin. The nappy is then covered with a waterproof outer layer (also known as a "wrap").
Related are the prefolds (which are several layers sewn together in a square shape). Prefolds sit unsecured in the wrap. I don't like folding nappies and I haven't found the containment to be as good as other kinds, but I always have a couple in the nappy bag as they are really useful in an emergency.
Pocket nappies
These are a waterproof wrap lined with fleece or terry and have a pocket or pouch that you stuff with any absorbent material (like a folded terry nappy or microfibre cloth for example). Once removed, the stuffing unfolds flat, so these nappies dry quickly; which is great for those wanting to avoid the tumble dryer (you are effectively drying a flat nappy and a wrap). I think those lined with fleece are superior, as the fleece wicks moisture away from the baby's bum. The downside is that these are more expensive to buy and I get frustrated stuffing and removing the inserts because I have very little patience. Getting the balance right between absorbency and bulk can take a bit of practice too. For example a folded terry nappy will soak up loads of wee but be really bulky; a hemp inset is slim and absorbent but takes longer to dry and microfibre is slim but ranks medium in the absorbency stakes.
All-in-ones
Also on the market are the all-in-one nappies, which are the closest in design to a disposable. You put the whole thing on, take the whole thing off and throw it in the wash. They are convenient but can take ages to dry and are expensive. The up side is that these nappies are the least frightening option for those who are scared by the whole reusable idea. I have never used one but anecdotally I hear that they don't last as long as other kinds because the waterproof fabric deteriorates with the increased amount of washing (usually a wrap is only washed when it needs to be, and can be left on a baby for several nappy changes).
Shaped nappies
Shaped like disposables and fastening up using heavy-duty Velcro, poppers or the nappy nippa, shaped nappies are made of layers of material, sewn so that the central area is the most absorbent. They need to be used with a separate waterproof wrap, but they are my favourite due to the flexibility the combinations of nappy and wrap provide. There are lots of different companies making shaped nappies and I would recommend that you have a read of some of the reviews available on-line for the finer details.
You can buy shaped nappies that cleverly fold to accommodate babies from "birth to potty" or buy different sized shaped nappies as your baby grows. As babies are so tiny when first born I found that the birth-to-potty nappies just didn't go small enough so I used disposables in hospital and then muslins as prefolds inside a tiny wrap along with a few "small" sized shaped nappies. As soon as the babies hit 9lb, the birth-to-potty nappies fitted albeit being a bit bulky. After that the birth-to-potty kinds have done pretty well.
That said, the sized kinds I had in my nappy bag have ensured a good fit at the two ends of the size spectrum, and as I knew I was having more than one baby when I started buying cloth nappies, the expense of buying several different-sized nappies wasn't a problem either.
The others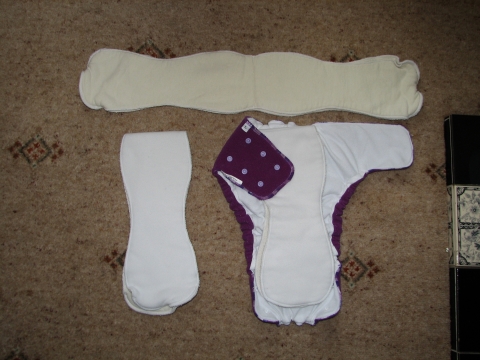 Because there will always be a nappy that falls outside of the rules! One kind I can think of is the American "Soft wrap" which has a popper soaker booster pad that you attach to the fleece body.
Wraps
Wraps are used over shaped nappies, terry squares and prefolds. They fasten with either heavy-duty Velcro or poppers (I found that Velcro gave a better fit and was more adjustable than poppers). Wraps have replaced the plastic pants of old and are now made from far softer materials. The most common kind is made from PUL (polyurethane laminate) which is very waterproof and comes in lots of different colours and designs.
Polyester fleece and wool are other fabrics commonly used. These aren't waterproof as such but are breathable, which can help if your little one gets nappy rash. I found wool more moisture-resistant than fleece but both caused some dampness from pressure wicking. I prefer a wrap that has a leg gusset as it assists in containing those explosive poos and general wetness.
Wraps don't need washing every nappy change (unless soiled) so you should be able to manage with 4/5 wraps in each size (there is no birth-to-potty wrap). Some people have different wraps for day and night use, but I use PUL wraps all the time now.
Boosters
A booster is simply a pad of material used to increase the absorbency of the nappy. Especially useful overnight or if you are going on a long journey and won't be able to do a change en route. That said, I have found that one of my children can wet through a cloth night-time nappy no matter how much I boost it. So I do use a disposable overnight for her. Not ideal but using just one disposable a day is better than several.
The basic kit
So, you're still keen. You have picked your nappy type and refined your choice further after a bit of research. How many nappies will you need? 16 - 25 nappies should do you, depending on the type of nappy and how you intend to dry them (a baby will soak roughly 8 nappies per day). If your nappies take a long time to dry you will also need a few more to avoid the tumble dryer.
Add 4 or 5 wraps in each size. Consider some boosters, fleece liners if your nappy doesn't have fleece next to the skin and some kind of a paper liner for solids (which you will flush down the loo complete with the poo). Finally buy a bucket with a lid, some tea tree oil and you're set! Of course if you are really adventurous you could always sew your own cloth nappy but, as that skill is something I have yet to acquire, I will leave that article to someone who does.
As a final note, contact your council as several run schemes to help you into reusable nappying – be that discounts or trial schemes.
I hope this gives you some basic information to get you acquainted with the different kinds of nappies available. Several downsizers use, make and sell nappies, so ask in the forum section for more info.
Frewen (with special thanks to Helen_A and 2steps for their contributions).