Pricey's Perfected Pork Pie
Written by Pricey
Eat your heart out Mrs Miggins, Pricey's recipe is here...
As some of you are aware I class my self as a pork pie connoisseur, and I have the belly to prove it. I saw this recipe in a well known meat book and have fiddled with it and now think I have it spot on.
I only use hands of pork for this and find there is enough lean and fatty meat to do this big pie. The tin I use is 8 inches across by 4 inches deep, with a loose bottom.
You will need.
1.25 kg pork (hand).
This should give you about 1kg of lean bits which you cut into inch cubes.
250g of the fatty trimmings from the pork & 250g of streaky bacon, minced together.
20 or so sage leaves finely chopped.
Half a handful of thyme leaves chopped.
1 1/2 teaspoons of salt.
2 teaspoons of coarsely ground black pepper.
2 teaspoons of white pepper.
1/2 teaspoon mace.
1/2 teaspoon cayenne pepper.
250 ml of Pork stock that will set to jelly (I use Sean's trotter recipe, eat the trotters then use the stock, it freezes well)
For the hot water crust,

100g lard.
100g Butter.
200ml water.
550g plain flour.
1 teaspoon salt.
2 eggs beaten, & 1 egg to glaze.
Right, pastry first, into the saucepan goes the water, lard and butter, heat slowly till it has just melted. Put the flour, eggs & salt in a bowl, add the warm water mixture and get your hands dirty. If it is too sticky add more flour, if too dry add a drop more warm water. Wrap in clingfilm and put in the fridge for a couple of hours, or until cold.
For the filling, cut up all the lean meat and mince the trimmings and bacon together.
Then all of the ingredients except the stock get mixed together, in a large bowl.
Next you need to roll the pastry out. I weigh it then take exactly a 1/4b off for the lid. Roll the rest out so it is about 4 inches bigger than the tin, put it in the tin and press it into the sides, so it comes 3/4 of the way up.
Then put the meat mix in pushing it down firmly, but do not over fill, if you have some left fry it up and eat it.
Then roll out the lid to the size of the tin, brush the edge of the pie with a little beaten egg, then on with the lid, crimping the edges so they are sealed tightly. Cut a 1/2 inch hole in the top.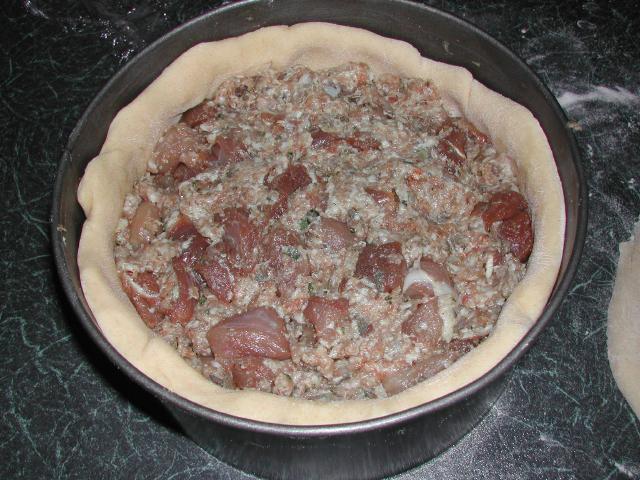 Bake on the middle shelf on 180c for 30 minutes. Then reduce to 160c and bake for 1 1/4 hours.
Take it out and remove from the tin. Glaze with the beaten egg then pop it back in for 10 minutes, Then take it out and allow to cool.
Warm the jellied stock up so it is pourable. Now you need the patience of a saint, slowly start to pour the stock in the hole at the top, bit by bit. It takes me about a hour to get it all in, letting it settle then going back to it.
When cool stick it in the fridge with a tea towel over it. It will keep for two weeks like this, but I bet you cant make it last that long, especially when you take it to a Downsizer meet.


If you have any questions about this pie, or pies in general, please raise them on our forums.