Easy Marmalade
Written by cab
Home made marmalade for the idle...
I love marmalade, but I'm lazy. All of that cutting the zest off the pith, sorting out the pips and stuff, that just isn't for me.
So over the last few years I've been looking for quicker, easy marmalade recipes. Here I present my own fast and easy method, with pictures.
Step 1: First, catch your oranges
Seville oranges are in season early in the year. They're bitter, hard-ish, practically inedible little fellows, but they're quite amazingly tasty when cooked.
Heres a pan load, thats about four and a half pounds in weight, in a pressure cooker, to which I've also added a pint and a half of water: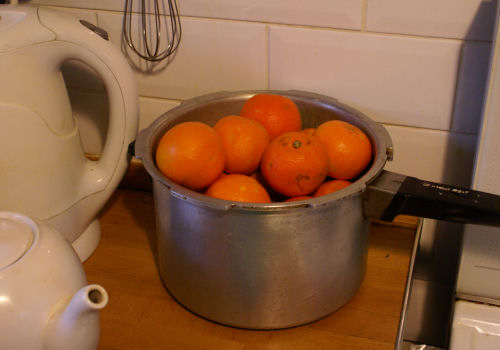 Step 2: Kill your oranges
In a pressure cooker, the Seville orange dies after about 20 minutes on full pressure. Add only a pint and a half of water per four and a half pounds of fruit, thats enough to fill a Prestige high dome without over-filling it with liquid.
Let the pressure cooker cool down fully before the next bit; thats important, as the cooling time is very much part of the time you're using to cook the oranges. When its cool, pour through a collander into your preserving pan; add another pint and three quarters of water to the preserving pan, and put it aside.
If you're doing it in a big pan and not a pressure cooker, put in seven and a half pints of water to four and a half pounds of oranges and boil it for about 3 hours. Take the oranges out.
Step 3: Slice up your oranges and squeeze out the pips
The oranges should be cool and wet. Stick your finger through the skin of the orange as you pick it up, and let it drain into the juice. Then rip out its guts and squeeze them onto the pile of shreddings, retaining the pips in your hand. Put the pips in one pile, guts and skin in the other (should look rather like this):
Step 4: Boil the pips
Put the pips in your preserving pan with all the liquid and boil them, hard as you like, for ten minutes or so. This really helps to set the marmalade. Looks pretty grim this bit, rather like this:
After ten minutes boiling, strain out the seeds and save the juice.
Step 5: Dump it all in the pan and boil like hell
Put the pulp and shreds into the pan, with the sugar. Lots of sugar. For four and a half pounds of seville oranges use nine pounds of sugar, the juice of three lemons (really needs this, it boosts the taste and helps the set) and a knob of butter to stop scum forming.
Heres what half of the sugar looks like:
And heres what the pan load looks like after adding in the butter:
Boil it now. Really go to town, boil it hard till its ready to set. Use whichever setting test you prefer. I use my jam thermometer to get it to about 105C, but I'd never put it into the jars until I've also got the juice to form a wrinkly crust on the back of a cold spoon.
And while it is boiling, make sure you get on with step 6/
Step 6: Sterilise your jars and lids!
This recipe makes a big pile of marmalade, and you want it to last. Pour boiling water into each of your jars (I found this batch made 17 jars this year), and into a bowl with your lids, then pour out the water and put the lids and jars into an oven at about 105C.
Step 7: Be patient
The marmalade is ready to set, but it isn't yet ready to pour into jars. Let it cool down until when you stir it the rind doesn't all float to the top. Then when you bottle it you won't end up with it settling out.
Step 8: Pour into jars, cover, and cap
Take your jars out of the oven, pour the marmalade in (sterilise a jug and use that to begin with, until the preserving pan is less full and you can pour directly), cover with paper discs (we use greaseproof paper cut into discs, but you can buy special wax paper thingies), and screw the top on. Here us half way through:
Step 9: Cool, clean, label
Let it get completely cool, and then take a damp cloth and wash off any spills. Dry it, label it, and pack away. Thats your marmalade for the year all good and dealt with!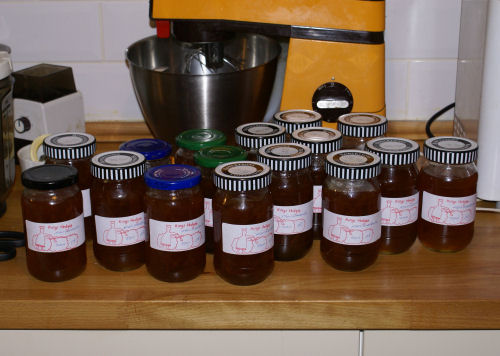 And if that wasn't easy enough for you...
This one (submitted to our forum by Lottie, and since then it has become clear that many others use this one) may be even easier!
Dorothy Sleightholmes 'Busy Woman Marmalade'
4 seville oranges
1 large juicy orange
1 large lemon
6 pints water
5lb sugar
Half the fruit, squeeze out the juice and add to 5 pints water
Put the pips into a jug with another pint of tcold water and leave overnight.
Mince the fruit halves, or food processor it; be gentle, don't pulp it down, you want some shreds (don't you?). Add that top the five pints of water with the jucie and leave all of that for a good day or so.
Add the water from the pips to the mush, cook till pulpy, add the sugar and cook till setting point is reached. Bottle as for any jam or marmalade.