Spring foraging for beginners
Written by Jamanda
The early months of the year provide a wealth of free food for the finding. (As always, ensure that you have permission from the land owner before picking.)
One of the most recognisable and most delicious plants around from March to May or even June(depending on how far North you are) is Wild Garlic, also known as Ramsons or Allium ursinumThe carpets of glossy, green leaves, pretty, starry flowers and unmistakable garlicky smell make this a great plant for first time foragers. It likes damp, shady, deciduous woodland floors - often growing mixed in with bluebells.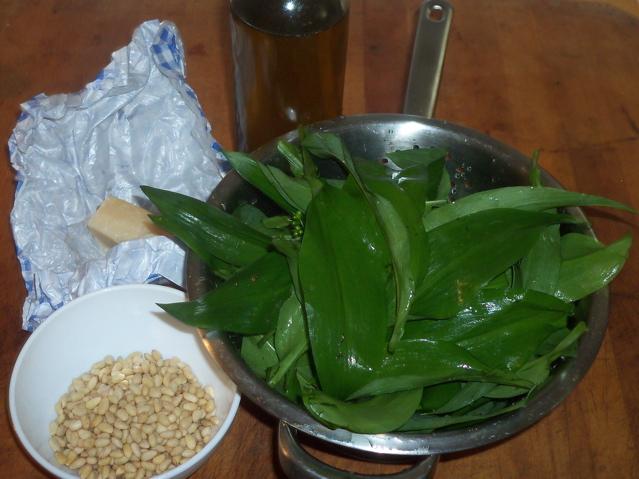 The first tender leaves are lovely in salads, but as they mature and the flowers start to appear they get a bit too strongly flavoured and course for that. However there still are lots of things you can do with them. One of my favourites is to wrap them around hard goats cheese, secure with a cocktail stick and bake. Or you can grind the leaves up with pinenuts and olive oil to make pesto. Or mix with nettles and any other greens to make a delicious saag. See recipe here. Or you can use the flower buds. They're wonderful mixed raw into simple mixed leaf salads, or quickly flashed in a pan with a slosh of soy, squeeze of lemon juice and a sprinkle of sesame seeds. See the recipe on DS member, Stuovenden's blog. And of course ramson leaves just cry out to be put in a duck egg omelette.
And talking of nettles - they're so useful they have a whole article to themselves here!
Other leaves to add to your Spring salad include Garlic Mustard Alliaria petiolata. Pick the youngest soft leaves from the top of the plant, and include a few flowers which have a nice horseradishy flavour. These plants grow in hedge bottoms hence their other name, Jack-in-the-Hedge. You can also add them to a very tasty onion and potato rosti.
To add some crunch to your salad, look for Pennywort or Navelwort Umbilicus rupestris growing on shady walls. Again find the sweet, tender baby leaves. These are one of my favourite things to munch on as I find them.
To really make your salad look pretty add some violets or cuckoo flowers Cardamine pratensis. Or to add some zing, some three leaved wood sorrel Oxalis acetosella.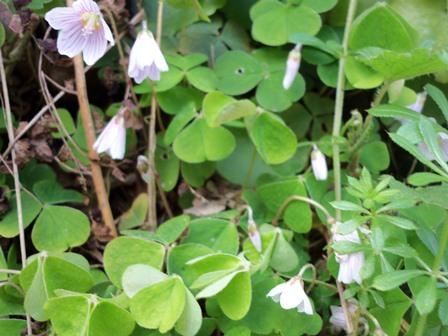 It's not only greens you can find at this time of year. Gorse flowers can be used to make a lovely wine - see instructions here, and are well worth the delicate operation of picking them without prickling yourself.
If you are lucky you might spot some St George's Mushrooms Calocybe gambosa St.Georges usually appear in the spring from as early as March and as late as June.They are found on meadows but also less often in small copses or woods. You find them singly, in groups, or in rings (a 60 foot ring would probably be 180 years old). They have a pleasant mealy, strawy sort of smell and taste and they are good to eat. They are delicious fried in olive oil for a few minutes. Then add garlic and eggs and serve them with bread, parmesan cheese and lemon. I am told the best way to spot them is from horseback!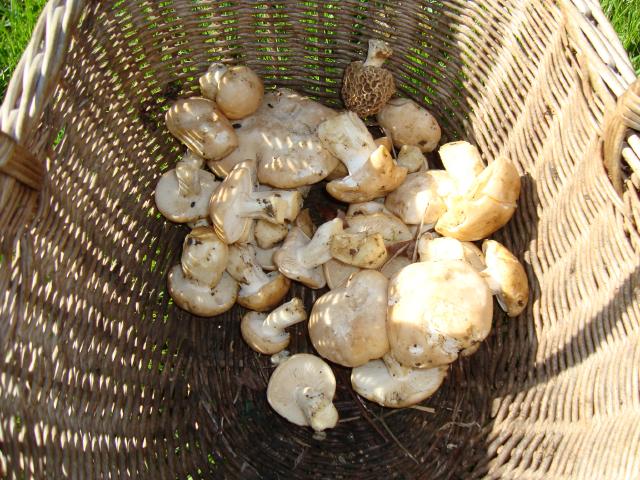 Another easily recognisable fungi which is about from late Spring through to Autumn is Chicken-of-the-woods (Laetiporus sulphureus). This has bright yellow rounded brackets and can get very large. Pick it while it is still young and soft, and it is delicious fried or added to any dish where you would use commercial mushrooms. It is particularly liked in Thai green curry in this house.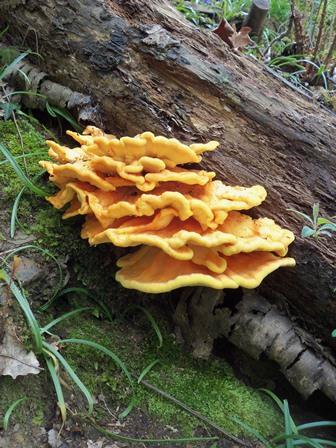 So what are you waiting for? - get out there and forage! Any questions at all, about identification or what to do with your haul please feel free to ask on the forum here. Or just come and tell us what you found!