Sewing for knitting
Written by Cathryn
My sister has just started knitting again so I have made her a roll for all the needles she's sure to accumulate. It's really easy and was put together quite quickly. With a bit more effort and ribbon it could even become pretty!
I used, as a template, the one I made for myself ages ago.
You will need a piece of fabric that measures approximately 60cm x 42cm. Check that your longest pair of needles will fit. Tough cotton, lightweight denim, something like that would be good. I have a piece of linen curtain material, not so good as it frays a lot. I have used french seams both to give a nice finish and to avoid it fraying apart.
Fold your fabric into a bag shape so that the right sides are together. It should be deep enough to take your longest needles and leave a flap at the top to fold over.
Turn down and sew along the inside seam. Mine happens to have a selvedge on it so I have left the edge flat.
Turn the fabric the right way round. Inside out, outside in? Whatever, so that the right side is now on the outside! Press, pin or tack a seam along the remaining raw edge, the top flap of the needle case. I carried on sewing around the whole of the bag (a kind of french seam) but that isn't necessary.
Now you need to decide what's going into it and divide the interior up accordingly. All you then need to do is to run your sewing machine down and make these divides. I have made small, shallow pockets for the short double ended needles, wider pockets for circular needles. The long pockets are around 2.5cm wide and will neatly hold long knitting needles.
You can see this more clearly in the blue and white stripped holder. I have added an extra loose pocket to this one for the short double ended needles.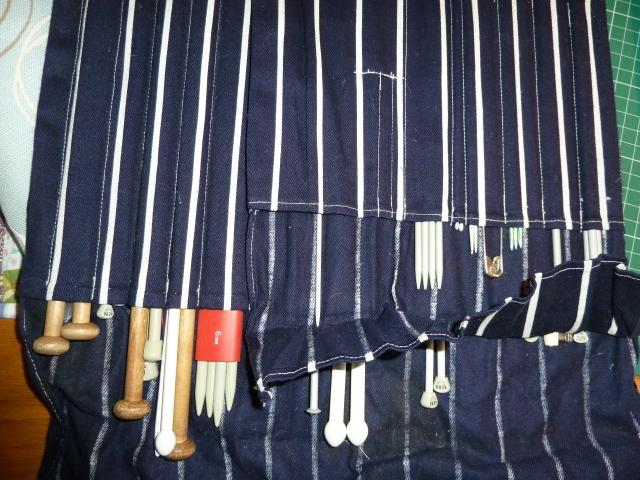 The completed needle roll.