Knitting For The Nervous Part 2
Stocking Stitch & Moss Stitch
Written by Sally_in_Wales & Mochyn
In this cloth you will be doing three different things: there's a garter stitch border (every row knitted) surrounding four panels, two of them in stocking stitch (stockinette) where rows alternate knit and purl and two moss stitch where stitches alternate knit and purl. NONE OF THIS IS DIFFICULT! Moss stitch is, perhaps, the easiest pattern after garter stitch and one of my favourites.
STOCKING STITCH & MOSS STITCH DISHCLOTH
Abbreviations: k = knit, p = purl, st = stitch. Where there are brackets around a term or terms those are to be repeated the number of times specified.
Yarn: Cotton DK (double knitting): I used Texere "Provence" in shade Light Spruce
Needles: 4mm
Cast on 45 sts
Knit 5 rows, slipping the first st of all except the first row.
Pattern:
Row 1: k5, (p1, k1) 7 times, p1, k25
Row 2: k5, p15, k5, (k1, p1) 7 times, k6
These two rows form the pattern for the first half of the cloth. Work them 10 times more, then work row 1 once more. This gives you 23 rows of pattern.
K 5 rows
Row 3: k25, (p1, k1) 7 times, k6
Row 4: k5, (p1, k1) 7 times, p1, k25
These are the second half. Work them a further 10 times plus once more for row 1. K 5 rows
Cast off.
Cut off the yarn leaving about 12" and work a crochet chain of 10 stitches. Pull the end through the first loop of the chain and fasten off. Sew the end into the knitting and do the same with the cast on edge.
If you don't want a hanging loop pull the cut off end of yarn through the last stitch and fasten off as above.
The purl side (back) of stocking stitch:-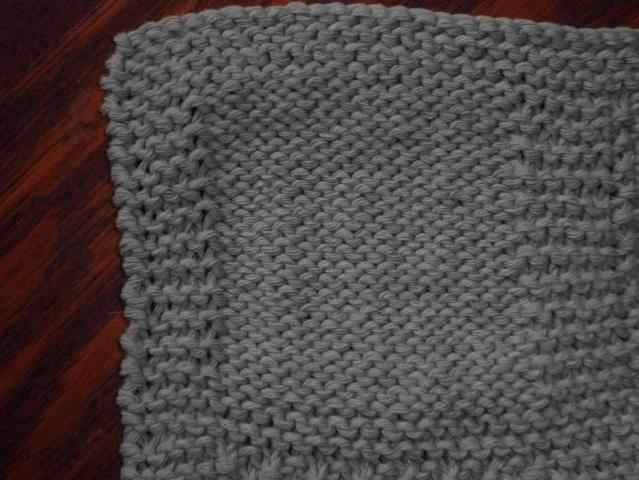 The front (knit) side:-
In both these pictures you can see the garter stitch border and some of the moss stitch.