Festive wreaths made with foraged materials
Written by Hedgehogpie
If you have access to a hedge or have a well-stocked garden, you are almost certain to find something suitable for making a rather special wreath. Hedgehogpie shows us how.
This is a good time to cut rods for weaving because the plants are going dormant.
If you just want a ring shape to make the base for a wreath you can try using any flexible prunings. Lime, willow, hazel and dogwood are all good examples.
This is hazel.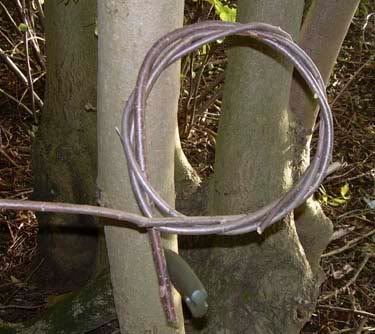 The trick is to soften pencil-thick shoots by lightly bending them between your fingers and thumbs along their length from base to tip (thick end to thin). As long as your chosen pieces don't snap under the pressure they should be fine to use. (I don't soak rods for wreath rings; they should be fine as long as you do not bend them too tightly). Gently ease the first twig into a hoop shape, bringing in the remaining ends, bending them round and tucking them in.
Add new rods, always working in the same direction, until you reach the required thickness. Then trim off anything that sticks out with a diagonal cut (use secateurs).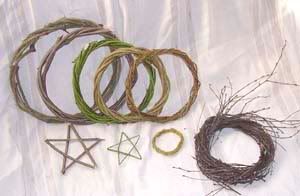 Here you can see a number of hoops and stars made rods from the trees and shrubs listed above. The wreath on the right is made from birch twigs, which is very pretty.
Finish the rings any way you that takes your fancy by adding greenery and berries of your choice (attach with raffia, wire or a glue gun).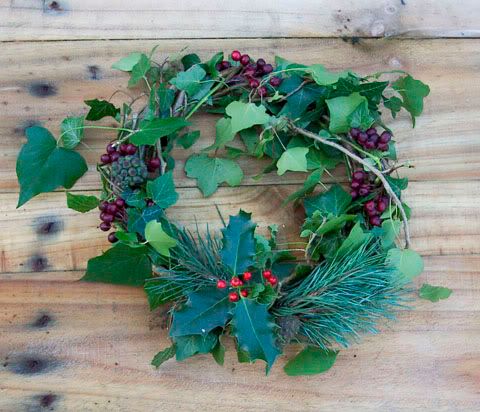 Here spruce is used as the base for the wreath: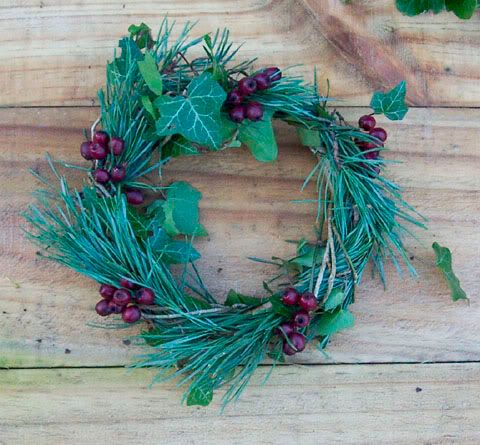 You can also weave hedgerow baskets from thinner material such as bramble (scrape off the thorns), wild clematis, honeysuckle, old hop bines etc. Be aware that clematis has a skin irritant in the sap so, if you have sensitive skin, you may want to use wear gloves.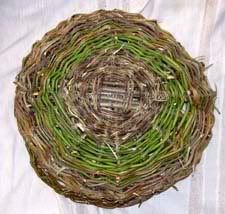 This rustic basket and the one below were made with a mix of hedgerow materials. These are fun to make and will last a good few months if woven tightly. They are, however, subject to a little shrinkage, so don't expect them to keep forever.They are great for practising techniques and experimenting though.
,p>Other very easy things you can make for Christmas using hedgerow materials are stars. The large star below is a mix of hazel rods cut and bound, interwoven with thin stems of wild clematis.
The little stars are hazel and dogwood rods, crimped and bent into shape and then fastened with a little florist's wire. Imagine you are drawing a five-pointed star; that is essentially all you do with the rod, which you crimp and bend as you move around the five points.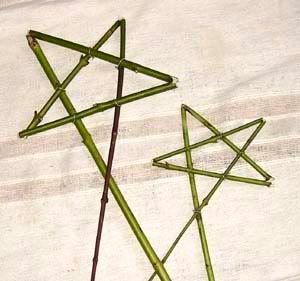 That's all there is to it. Experiment and have fun!