Fairycake Bath Fizzies
Written by sally_in_wales
These simple little alternatives to bathbombs use easily obtained ingredients and are ideal as presents. They only need a day or two to set and don't use any complicated ingredients, so are great for last minute gifts to make with children.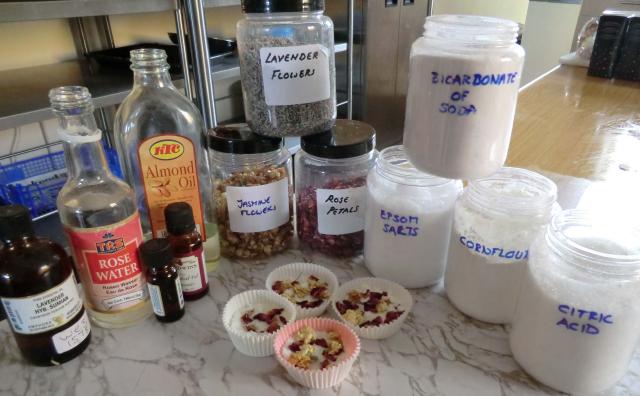 Ingredients and what they do:
Bicarbonate of Soda (Baking powder may be substituted.) In combination the citric acid and the alkali bicarb will react when damp to create fizzy carbon dioxide whilst they 'neutralise' each other and act as a water softener. The result is a pleasantly fizzy bath that feels nice on the skin.
Citric acid (as above)
Salt (sea salt, epsom salts, coarse salt, even table salt, this is a filler and buffer so you can be creative about what sort you use, some sorts of salt are believed to have soothing or beautifying properties)
Cornflour- this is also a filler, making more of your fizzies for only a few pennies more, but it also works to slow down the fizzing reaction, so you have more time to assemble the mix before it goes 'fizz' on you!
Water: Choose witchazel, rosewater or orangeflower water, you only need a very few drops of this to stick everything together, even boiled and cooled tap water will do in a pinch.
Scents: Essential oils that are safe to use in the bath such as lavender, geranium etc (read up on your choice first to be sure its a good one for you or your intended recipient) or cosmetic safe fragrance oils.
Oil: Almond oil is lovely, olive oil works just fine if thats all you have to hand, other luxury oils can be used too.
Optional: Food or Cosmetic colours, cosmetic glitter, dried flower petals etc to make it all pretty. It will work fine without these.
Fairy cake cases to hold it all.
Most of these ingredients can be bought in a large supermarket, but for the best prices on citric acid and bicarb and the fragrances and decorations, consider an online shop. Most soapmaking suppliers also do bathbomb ingredients.
Method:
Mix the dry ingredients together in a big bowl to the following proportions: 2 parts bicarbonate of soda, 1 part each of citric acid, cornflour, salt.
Add a few drops of food or cosmetic colouring and any cosmetic glitter you wish to use.
For each batch of ingredients (if you used a tablespoon or similar to measure, if making larger batches, adjust accordingly), prepare one teaspoon of oil and up to ten drops of your chosen fragrance oil.
Mix everything together really well.
Get your paper cases ready. You need to work fast for the next bit!
You are going to add just the merest touch of water to allow the ingredients to stick together, but its very important you don't make it too wet, or the fizz will start and you won't be able to mould the mixture.
If you have a small spray bottle to squirt on a fine mist of water, this is great, but if not, add just a very few drops of water to the bowl, stirring steadily. You want the mix to barely cling together when pinched hard between the fingers. Stop adding water just before you think you have it sticking together (trust me, its wet enough!) Having a helper at this point isn't a bad idea.
Spoon the mix into the fairy cake cases. The mix above done in tablespoons will make about 5-6 fairycake fizzies.
Over the next five minutes, you may see the mix rise up slightly. This is the result of some of the water making a little bit of the mix fizz up plus extra moisture from the air getting in- this is why we stopped adding water just before it was damp. Pat the cakes down with a teaspoon.
Optional:
Sprinkle flower petals or extra cosmetic glitter on top, and pat it down to help it stick.
Leave the fizzies to set it a warm dry place (airing cupboard is perfect if you have one) overnight, then they should be hard and dry enough to wrap. Use a small tub or clingfilm to stop the fizies getting damp before you use them. If making these in the winter, the air will have a lot of moisture in it so it is particularly important to put them somewhere warm and dry to set quickly. If they stay soggy too long, they will still be nice in the bath, but most of the fizz will have gone away.
To use:
Peel one or two fizzies off their cases and drop into a running bath. They will fizz up and dissolve, releasing fragrant oil and salt into the bath, whilst any glitter or flower petals float on top. Enjoy your fairycake bath!
With thanks to Helen and Scarlett for testing these instructions at the winter fibre frenzy at the Dolanog Community Centre!