The Wine-Maker's Calendar
March
Written by Cab
Cab (and others) offer suggestions for this month's brews.

It's almost spring, and while there are few fresh ingredients around for the brewer, that doesn't mean that you can be inactive. Now is the time to clear the decks for months ahead, and be preparing yourself for some of the gluts to come.
In March I like to go through my homebrew kit and give it all a good looking over; throw out any yeast that's months or years out of date, get more corks, check on how many campden tablets are left, etc. I want to be all stocked up so that nothing can stop me in the months to come. While March is a relatively quiet month, from April onwards I can expect something new in my fermenting buckets every week or two, and as work on the allotment starts getting more hectic and there's more to forage, the last thing I've got time to do is go shopping for homebrewing supplies!
But that doesn't mean that there are no good wines to make in March. Indeed, now is the time to make one of the truly iconic brews of the British Isles, birch sap wine (of which more later), and many wines with dried ingredients can be made. Its also time to clear the last of the old root crops out of the plot and get them used up, which can mean carrot, parsnips, Jerusalem artichokes, salsify, etc., and of course some of the other leftover winter staples like parsley will still be in abundance. The enterprising brewer will find no shortage of great ingredients.
With this in mind, here's our collection of homebrew wine recipes for March, submitted by Downsizer members.
Carrot Mead
If you're pulling the last of your carrots out of the ground in March before they go to seed, this is a great way to use up any excess you have.
Just shy of 1 gallon of water
5lb Carrots
Juice and Zest of 3 oranges
Juice and Zest of 1 Lemon
3lb honey
1 tsp yeast nutrient
1 tsp amylase
Yeast (champagne is good)
Quite an effort this one, but its worth it. Put the water on to simmer, adding in the honey, carrots (cleaned and chopped, not peeled), yeast nutrient, citrus juice and zest. Keep it close to a boil for 40 minutes or so, skimming off any scum that floats up.
Strain out the solids (the carrots are well overcooked, but sweet from the honey, eat if you like 'em mushy), get the liquid into a sterile bucket and cover tightly; when its cool add the amylase and activated yeast. Ferment out as normal.
This is a surprisingly rich brew, the honey adding some extra depth of flavour. If you prefer to make as a wine rather than a mead, use 2 1/2lb of sugar in place of the honey.
Sweet dried peach wine
2lb dried peaches
3 1/2 pounds sugar
Juice of 2 lemons
1 gallon of water
1 tsp yeast nutrient
pectic enzyme
yeast
Soak the peaches in the water overnight. Add sugar, lemon juice, yeast nutrient and boil the mix for 10 minutes. Strain into a sterile bucket, cover tightly, and when its cool add activated yeast and pectic enzyme. After 4-5 days in primary, decant into demijon and ferment out as normal.
Jerusalem Artichoke Wine
This one adapted from Jack Keller's excellent site
5-6 lbs Jerusalem artichoke tubers
2 1/2 lbs sugar
Zest and juice of 2 lemons and 2 oranges
1/2 oz ginger root
1/2 tsp pectic enzyme
water to one gallon
1 tsp yeast nutrient
1 cup of strong black tea
wine yeast
Scrub the roots clean, and boil them in the water until tender and soft. Take them out, add the juice and zest, ginger root (bruised), sugar, tea and yeast nutrient. Boil for 20 minutes and strain into your primary fermenter (or 'bucket'). Ferment out as normal.
Gorse Flower Wine
Gorse isn't a likely looking forage. Ugly, spiky, inhospitable, but it also makes an interesting spring wine. Usually the first flower wine of the year, and there are literally dozens of different recipes for it. Here are some culled from our forums:
Gil's Gorseflower Wine
For 1 gallon:
7 pints gorse flowers
1 litre white grape juice
1kg sugar
Juice of 1 lemon + 1 orange
1/2 mug teapot dregs
1 teaspoon yeast nutrient
yeast starter
by the 'no boiling water' method (steeping flowers in cold/warm liquid only once the ferment has commenced)
You may wish to use only 3-4 pints of gorse flowers per gallon, if only because they are so painful to acquire! Wear gloves, but they need to be both thin and tough. Fingerless wool or leather gloves will stop the rest of your hands getting scratched, though not your fingertips.
Take a plastic pint measuring jug with you - that way you can tell how much more you need on the spot. Also, use stout carrier or cotton bags - supermarket plastic will be torn to shreds on the bushes if the wind blows.
Including :
A large 'jelly bag' or piece of muslin to tie the flowers up in
A piece of string to tie the bag to the bucket
A plate to weigh down the bag of flowers so it remains submerged (or you could sterilise a plain glass paperweight and put it in the bag with the flowers.)
Remember to sterilise the plate (if using) in boiling water before use
Sarah D's recipe for Gorse Wine
2 quarts flowers, loosely packed, no green parts
1 gallon boiling water
1lb - ish dried fruit
1 orange
1 lemon
3lbs sugar
yeast
Place the flowers in the bin and pour over boiling water; cover closely and leave 3 days.
Strain the flowers out, then add the dried fruit and sliced citrus fruits and the sugar; stir to dissolve. Warm to blood heat, then add the activated yeast. Cover again and leave 2 - 3 days, then place in a demi-john; you can take out the fruit or leave it/some of it in as you choose. Ferment out, then bottle.
As the flower wines can be a bit "thin", as they only really add their essence, some people use grape concentrate as well, but you need to reduce the sugar if you use this.
I don't, and use the recipe above, broom wine is made in exactly the same way, but it is easier and less prickly when it comes to gathering the flowers.
You should find a place with several bushes, so that you don't denude one or more too much.
Cab's Vague Gorse Flower Wine Instructions
Take something like 3 pints of flowers; 4 if you like, 2 if you must.
Put them into a nylon straining bag and that into a sterile bucket.
Boil the best part of a gallon of water. Add a teaspoon of yeast nutrient and half a teaspoon of citric acid. Now, you COULD use sugar, or you COULD use dried fruit or even grape juice, but that loses something of the gorse flower flavour which is in itself surprisingly complex, lots of very subtle undertones you want to avoid drowning. I've used honey in the past, which complements the flavour of gorse without overwhelming it.
2 1/2lb of sugar would do, or 3lb of honey is better.
If you're using honey, heat it in the water and skim off the scum when its risen. If sugar, just boil it in the water.
Pour the hot juice into the bucket on the bag, put a bin bag on top (I tie it in place with some string round it) and leave it to cool. Pitch in the yeast; now, for this you can use any white wine yeast or a general purpose one, but please, if you can, use a champagne yeast. It'll come out dry and aromatic then, you'll make the most out of the gorse and honey. Activate and add the yeast.
Stir this every day for, say, anything between 3 and 7 days. Till its good and gorsey.
Get it into demijon and ferment and rack as normal. Expect it to take a goodly while.
Birch Sap Wine
Tapping birch trees for sap is great fun, and much easier than you might think. All you need is a drill (a simple hand drill will do), a rubber or plastic tube, a big bottle and a bung (cork is ideal). When the buds start to swell, drill a hole through the bark of the tree, stick the tube in, put the other end of the tube into the bottle (a demi jon is ideal) and wait - overnight seems best. Don't tap a sapling, don't tap the same year two years running, and bang the cork bung in tight when you're done. A good sized tree will give you a gallon.
You've only got a short window of opportunity to do this, its when the tree is just about to spring into life. Watch closely for the buds of silver birch to start to swell, and when they do, pounce.
Gil's Birch Sap Wine Recipe
A basic recipe (for 1 gallon) :
ingredients :
1 gallon (8 pints) birch sap
2.5lb white sugar
1 orange, 1 lemon, 1 white/yellow grapefruit [rinds and juice]
8oz raisins, chopped up
wine yeast starter
method
1. boil up the sap with the thinly peeled rinds of the citrus fruits and the raisins, and dissolve the sugar in the mix.
2. leave till cool, add the juice of the citrus fruits and the yeast starter.
3. leave to ferment in a fermenting bucket for 7 days
4. strain and transfer into a demijohn under airlock
5. put in a warm place (c.65F) until fermentation ceases
6. rack off from the sediment
7. mature in demijohn for 3-6mths
8. bottle and leave for 3-6mths more
Gil's Other Birch Sap Wine Recipe
An alternative ingredients list :
1 gallon birch sap
juice of 1 lemon
8oz chopped sultanas
2.5 lbs sugar
1 teaspoon yeast nutrient
yeast starter
(may add some tea)
Cab's Birch Sap Wine Recipe
1 gallon birch sap
2 lemons
2 sweet oranges
1 small can grape concentrate
3lb sugar
yeast nutrient and yeast
Mix up the sugar, citrus zest and juice, yeast nurtient, grape concentrate and birch sap and boil together for 20 minutes. Add activated yeast when its cool. Ferment out as normal, and be prepared for it to take a long time to clear.
Parsley Wine
Another one I'm ripping out of my allotment in March. Some will go into the freezer till I've got more growing (won't be long!), but also I'll be making this.
1 gallon water
1 lb parsley
3 lb sugar
2 oranges
2 lemons
1 cup strong black tea
1 teaspoon yeast nutrient
activated yeast
Boil the water, sugar, parsley, yeast nutrient, fruit juice and zest for 20 minutes. Strain into primary fermenter, and when its cool, activate it. Ferment out as normal.
Freezer Wine
It's March, and the frozen stocks of veg from the plot are beginning to run down, so now is a good time to have a clear out. For me, that often means using up some of the berries from last year, and March is when I make my Freezer Wines. Doesn't really matter what berries or fruit goes in, or in what combinations, it always seems to turn out okay.
3 - 4 lb of berries (blackberries, raspberries, currants, gooseberries, raspberries, etc.)
2 1/2 - 3 lb of sugar
1 cup strong tea
1 teaspoon yeast nutrient
yeast
Put the berries in a nylon straining bag in a sterile bucket. Boil the rest of the ingredients (except the yeast) together, and add the boiling mix to the bucket. Cover tightly. When its cool, activate the yeast and pitch it in. As the fruit has been frozen, allow it about three days in the bucket, and decant into a demi john.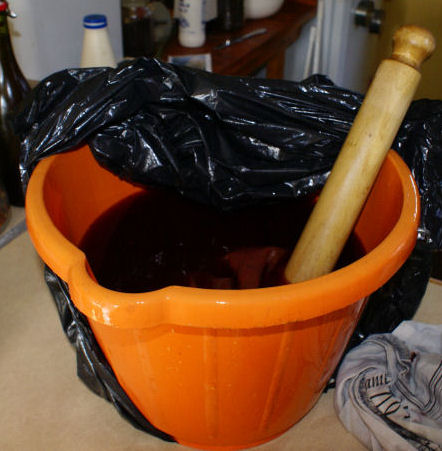 Some combinations work better than others. 'Red white and green' is one of my favourites, and it's how I use up any red and white currants and gooseberries I've got left over. Mostly Currant is a blackcurrant and blackberry wine I make that is MUCH more useful than black currant, being good to drink earlier. And if I've made two or three batches, I can pool all of the used fruit together and make another batch with it, using more or less the same recipe as above but with all of the used fruit, adding in a good squeeze at the end of the primary ferment.