The Wine-Maker's Calendar
February
Written by Cab and Gil
February is all about clearing the decks for battle. It's about using up the remains of last year's produce that has to be got through before the new planting season and it's about using up all of the detritus left over from the festive season to make space in the cupboards.
This article builds on earlier articles that give you a few of the basics of homebrew wine, such as this one.
So, with this in mind, here are the recipes submitted by Downsizer members for February. Good luck with them and happy brewing!
Parsnip wine
4lb parsnips
3lb sugar
1 gallon water
1 lemon
1/2 lb raisins
Campden tablets
1 teaspoon yeast nutrient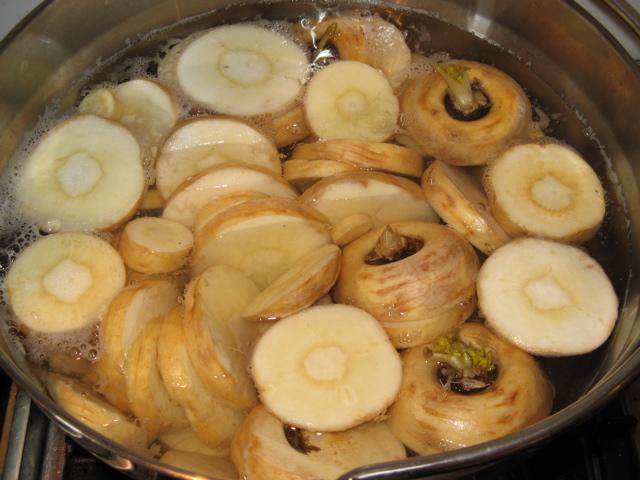 This is best made in February or March with any leftover parsnips that you haven't dug up yet.
Wash the raisins, chop them coarsely or bung them in a blender and boil them gently in enough water to cover for 20 minutes, topping up if you need to. Strain the raisins out and keep the juice.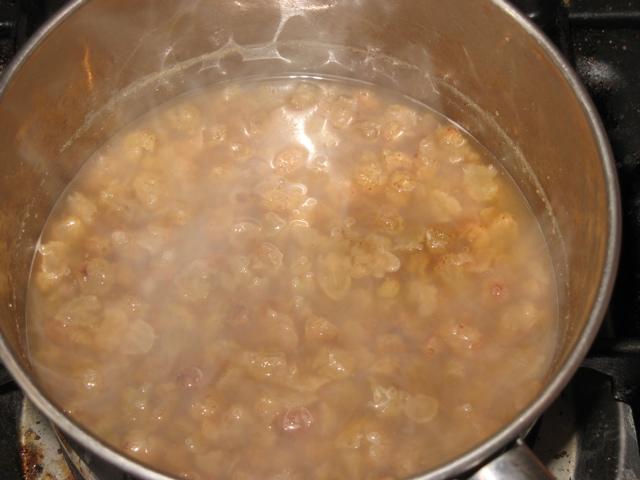 Scrub the parsnips clean, slice them fairly thinly (don't peel) and boil in the rest of the water till tender. Remove the parsnips (they're good and eatable, mash with some butter and nutmeg for dinner!) and add your sugar, lemon zest and juice and yeast nutrient to the water. Boil it for 10 minutes or so and then put it into your fermenting bucket. Stir in a broken up Campden tablet when its a bit cooler. Cover tightly and leave it till the next day, when you need to activate the yeast and pitch it in. Ferment and rack as normal. If clearing is slow, add in pectic enzyme or amylase.
Parsnip wine is good about 6 months after bottling, but it needs a year to reach its prime.
Ginger Solstice wine (1 gallon)
Only just put this one on, so no idea how it will turn out. It was an exercise in using up leftover bits and bobs :
7.5 oz root ginger
5 oz sultanas
1 banana
14 dates and the stones of 6 of them
2 cloves
Some bits of cinnamon stick
10 juniper berries
1 bay leaf
8 dried apricots
Juice of 1 lemon and 2 satsumas
1/2 mug strong black tea
2.75 lb sugar
1 litre white grape juice
Yeast starter, pectic enzyme
1. Bash ginger, chop apricots and sultanas, add to 2 pints boiling water with the spices and dissolve 1/2 kg of sugar therein.
2. Boil up chopped banana and dates in 1/2 pint water and strain into the above mix, with date stones.
3. When cool, add pectic enzyme, lemon and satsuma juice, black tea and the yeast starter.
4. Ferment on pulp for 5 days.
5. Strain off, add 1 litre grape juice and 1/2kg + 8oz [i.e. the rest of the] sugar dissolved in 1 pint of water. (At this point the SG when I made it was 1084)
6. Put in a demijohn under airlock to ferment out.
7. etc.
Pomegranate wine
This turned out so well last year that I had to make some more, using the exact same recipe :
10 medium pomegranates
12 dates (and 6 of the stones)
Juice of 1 orange (or 3 satsumas) and 1 lemon
1 banana
2lb 12oz sugar
1/4 mug black tea
Yeast starter, yeast nutrient, pectic enzyme, sulphite (if using)
1. Scoop flesh out of pomegranates into sterilised fermenting bucket.
2. Chop up dates, retaining 6 stones, chop banana. Heat with 1/2 pint of water in a pan.
3. Strain into bucket.
4. Add 2 pints boiling water to bucket mix and mash.
5. When cooler, add citrus juices, tea, PE and sulphite (if using).
6. Leave overnight in a warm place to steep.
7. Boil up 2.5 pints water, add sugar to dissolve and add to bucket.
8. When it no longer smells of sulphite, add 1 tsp yeast nutrient and a yeast starter etc.
Winter Solstice wine (1 gallon)
4oz root ginger
12 clementines
4oz dried apricots
Rind and juice of 2 oranges
Juice of 2 lemons
8oz chopped raisins
Bits of cinnamon stick
2.5lb sugar
1/2 mug strong black tea
2 cloves
1/2 pint white grape juice
Yeast starter, 1 tsp pectic enzyme, 1 tsp yeast nutrient
1. Crush and boil root ginger in 2 pints water, add chopped apricots and raisins, cinnamon and orange peel. When cool, add 1/2 tsp pectic enzyme.
2. Peel clementines, crush, pour on 1 pint boiling water. Steep for 12 hrs, then strain into the above mix. When cool add 1/2 tsp pectic enzyme.
3. Put the whole lot into a sterilised bucket with the orange and lemon juice. Add 1/2kg sugar as a syrup in 1/2 pint water. Also add the tea.
4. Add yeast starter and yeast nutrient.
5. Ferment on the pulp for 5 days.
6. Strain into a demijohn, add the rest of the sugar as a syrup in 1 pint water and top up to a gallon with grape juice.
7. Ferment out, rack etc
Candlemas wine (Seville orange) 1 gallon
On first tasting, this bears an immediate, alarming (and superficial) resemblance to an amontillado sherry , but it tastes increasingly of oranges the more of it you drink.
7 Seville oranges (rind and juice)
3 sweet oranges (ditto)
1 small piece root ginger (optional)
9 dried apricots
2.75 lb sugar
5oz chopped sultanas
1 litre red grape juice (white is good too)
1/2 mug black tea
Yeast starter, yeast nutrient, pectic enzyme
Method pretty much like the other citrus ones above.
Peel / derind the oranges, chop up flesh and pour on boiling water. Add chopped apricots, sultanas and bashed ginger if using.... take it from there.
Sweet Seville Orange wine
15 Seville oranges
2 lemons
4lb sugar
1 teaspoon yeast nutrient
1 cup strong tea
Pectic enzyme
Yeast
Almost a gallon of water
Peel 8 of the oranges and throw the peel away. Cut all of the oranges and lemons up and put them in a sterile bucket, ideally inside a nylon straining bag. Boil the water with sugar, yeast nutrient and tea, pour this on to the fruit and cover tightly. When it's cool, add the yeast and enzyme and cover again. Stir it daily for about 10 days, then rack it into a demijohn. Ferment out as per any wine; this one is better done in a darkened demijohn if you have one.
Date wine
3lb dates
2lb sugar
Juice of 2 lemons
1 cup strong tea
1 gallon water
Pectic enzyme
1 teaspoon yeast nutrient
Yeast
Boil the water, sugar, lemon juice, nutrient and tea. Pour this onto the (chopped-up) dates, ideally in a straining bag. Add yeast when cool and ferment on the pulp for 4-5 days. Rack off and ferment out as normal.
Sorrel wine that might work for Leaf Beet
It turned out drinkable, tastes good, though not much like sorrel as a vegetable. Only problem I had was clearing it - still opalescent (so not too cloudy in the end) - this might have been the sultanas, so you could use 1 litre white grape juice instead.
Sorrel (or Leaf Beet) wine
1lb sorrel / leaf beet leaves
1lb sultanas, chopped, or 1 litre white grape juice
juice of 1 lemon
1/2 pint strong black tea
2.75 - 3lb sugar
Yeast, yeast nutrient
1. Wash and shred the leaves, put in sterilised bucket (with sultanas if using).
2. Pour on 2 pints boiling water.
3. Dissolve 1/2 kg sugar in 1 pint water and add.
4. When cool, add yeast starter.
5. Ferment on the leaves for 6 days.
6. Strain mix off leaves.
7. Add tea, lemon juice, grape juice, rest of sugar as a syrup and top up to 1 gallon.
8. Leave to ferment out, rack a couple of times, bottle.
Spiced Beetroot wine
3lb beetroot
1 gallon water
2 1/2lb sugar
Juice and zest of 3 oranges and 2 lemons
1 tsp yeast nutrient
10 cracked peppercorns
Yeast
Scrub the beetroot, top and tail and slice it. Put the beetroot into a big pan and pour the water on, add the sugar, yeast nutrient and citrus juice. Wrap the zest and peppercorns in a muslin bag and drop them in too. Get it all to just below boiling point, simmer at that point for about 45 minutes.
Strain the beetroot out, and pour the juice into your primary ferment vessel (or 'bucket with bin bag tied on top with string' as it's known in our house), add activated yeast when it's cool and ferment as usual. Give it a few days to settle down before transferring to secondary.