Pastry for the Worried
Written by Jamanda
Simple instructions for successful shortcrust pastry.
Not necessarily the definitive method, but it always seems to work for me!
I've put the weights in imperial as they are nice round numbers and easy to scale up as required.
Ingredients
To line a 8" pie dish (bottom only)
4 oz plain flour (plus more for sprinkling and dusting)
1 oz butter
1 oz lard (plus a little for greasing)
just over 1 tablespoon of water (20ml)
Method
1 Preheat the oven. The temperature will depend on what you are making with the pastry, in this case (I was making a quiche) it was 200°c
2 Grease your pie dish
3 Put a couple of ice cubes into a cup of water
4 Put the flour into a bowl and add the butter and lard taken straight from the fridge
5 Using a knife, cut the fat in to as small pieces as you can manage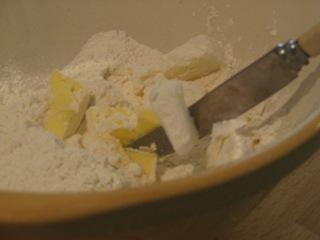 6 When you can't cut it any more, briefly rub the fat into breadcrumb like pieces with your fingertips. Under doing it is better than over doing it.
7 When you are finished there should be no flour on the palms of your hands - only the fingers. (Ancient tip passed down from my Great Grandma)
8 Remember that iced water? Now pour 20ml into the bowl and mix in with the knife.
9 Gather it all together into a ball with your fingers. Don't knead and don't worry about getting every scrap of flour incorporated - again less is more!
Some people let it rest in fridge here, but I never do.
10 Put a generous sprinkling of flour on your worktop, remember to flour your rolling pin too and roll the pastry out, dusting the top and turning it over a couple of times.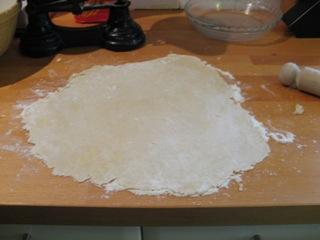 11 Using the rolling pin, pick it up and place it carefully in the pie dish. (Any tears or holes can be patched with the trimmings)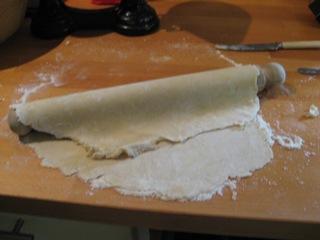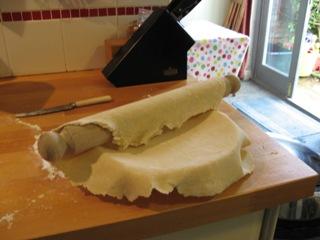 12 Cut off the excess with a knife and use for jam tarts.
And it's ready to go - With the addition of some fried bacon and a little egg, milk and cream and a grating of nutmeg and cooked at 200°c for 10 minutes and reduced to 175°c for a further 35 mins, this particular pastry base made a very good quiche.


If you have any questions, comments or suggestions about this article please visit our forum.