No Knead Bread
Written by Sally Too
1. Plain flour, yeast and a sprinkle of salt:
2. Warm water added and mixed to a slightly sticky dough:
3. Covered and left for about 18hrs or so - in reality this timing is flexible.
<


4. Appearance after 18 hours. Dough has risen and is sticky.
5. Knock back by first pulling dough away from sides:
6. You know it is ready at this stage when you see these sort of stringy bits of dough:
7. At this stage turn on the oven and put a large cast iron casserole dish in the oven to warm up. 230 degrees Celsius.
8. Dough looks like this once it has been stretched a couple of times using the wooden spoon. Cover and leave it as the oven warms.
9.Dough will rise again over the half hour wait for the oven to get up to temperature (1/2 hour is minimum second rise - longer is probably better: even up to another 12 hours - ideal is probably 2 -3 hours):
10. Remove casserole (carefully ... v. V. hot!) and scrape dough into casserole. The replace lid and put in oven:
11. Oops ... nearly forgot to add the poppy seeds!
12. Cook for about 50 minutes. Check with skewer if you are not sure it is cooked: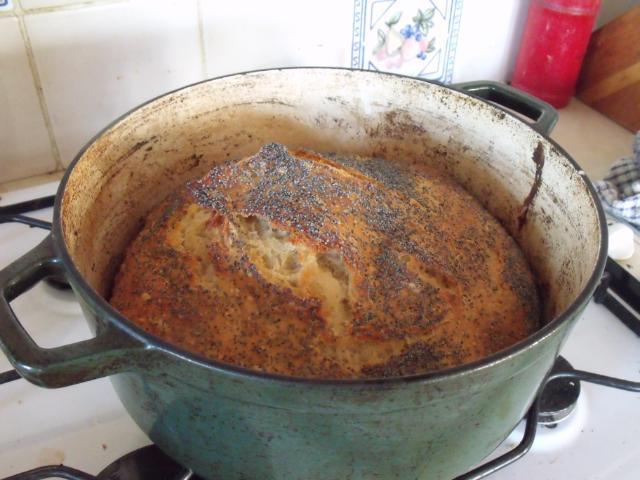 And finally!
To discuss or ask questions about this article, please join in here.