Home-made chocolates
Written by Cab
Valentines, Easter and Christmas seem to be major chocolate festivals these days. And buying is all well and good, but its more fun and much more personal to make your own. Heres how I go about it...
A note on ingredients
If you're really going to be doing chocolates 'big style', then get the ingredients all bought up and ready before you start. I've had to go off on my bike back down to the shops for more chocolate before, and it's no fun.
And buy good ingredients. Really. I know, it's more expensive, but it's not going to be THAT expensive. Remember that these are high-quality, hand-made chocolates such as those you'd get in expensive chocolatière shops, and that they'd be pretty much individually-priced in those places.
Here's what we started with on at the start of one of our chocolate days!

Dark chocolate:
is a simple thing; it is a blend of cocoa solids, cocoa butter and some sugar. Buy a dark chocolate that has a high-ish cocoa solids content. Don't go for anything daft like 80-99% cocoa solids, as that'll be unworkable, but anything between 40-70% will do. If you can, buy a little, sample it and if it's good go back for more.
Milk and white chocolate:
are similarly important; milk chocolate is, of course, made with some milk (or milk solids) in addition to what is in dark chocolate, often with sugar added, while white chocolate is made with milk, cocoa butter, sugar and no cocoa solids. Again, the quality is variable, and if the bar you're looking at was ever advertised by a kid dressed as a cowboy then leave it well alone. I've found that the M&S own brand is goodfor white chocolate, whereas for milk chocolate there are many good brands, and you really should get out there and sample some. Consider it 'research'.
In any recipe that calls for butter (you find that you'll need it for some truffle recipes) use unsalted. Unless you want salty chocolate. If it calls for cream, then use double.
Melting Chocolate
If you're making lots of chocs in a day, then you'll end up using three rings on your hob. Get three pans handy, and check that you've got three bowls that will fit into them such that you've got workable double boilers. Melting chocolate is easy, despite what some people will tell you. Put the chocolate (broken up) into a bowl, put the bowl into a pan of warm water, heat it up, and stir sparingly. Don't over work it, don't keep picking at it, and don't get any water in it, and you'll get nice melted chocolate. Small amounts are also easy to melt in the microwave, but be gentle with it. Half a minute and have it out, stir it, and only put it back in if you must. It's very easy to burn chocolate in a microwave.
Space, Trays, Moulds...
Yeah, yeah, you can use as many of those as you like. Certainly on Chocolate-Making Day we get all of our baking sheets out ready, all lined with baking parchment to take the chocs. That's certainly a good idea. And we clear all the tables and surfaces we can, to get enough space for everything to cool and set. Somewhere cool (our back hall) is handy to chill truffle mixes and fudge and a little freezer space will be handy to chill truffles before coating in chocolate.
You can buy all manner of chocolate moulds for making nice shapes. If that's what you want to do then go right ahead, that can add a distinctive look to what you're making, but you can make do without. Our infamous chilli chocolate coins 'pieces of hate' are made in the bottom of silicone bun trays and sometimes our truffles are left to harden in little paper cases. But for the most part we don't really much use moulds.
Presentation
I'm not normally good at such things, but for a box of sweets it's worth making an effort. Plastic sandwich boxes of the sort you get Chinese takeaways in can be bought cheaply in packs of 10 or so, and they'll do for gift boxes, but they're better if you can make a little leaflet with pictures of the chocolates in them, maybe wrap a ribbon around too.
Here's my leaflet for this year's chocolate boxes: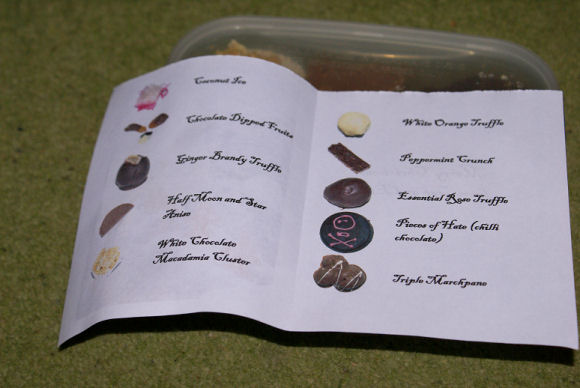 And this is the final box!
Now, that's enough waffle, on to the recipes.
Ginger Brandy Truffle
250g dark chocolate
75ml double cream
15g unsalted butter
1 tablespoon brandy
1 heaped dessertspoon stem ginger, chopped
1 tablespoon cocoa powder
Bring the cream almost to the boil in a good pan, take off the heat and add 200g of the chocolate and the butter. They should melt, but if they don't then warm it again. Stir in the brandy, and beat it senseless with an electric whisk for 5 minutes or so, at least until it thickens a bit. Mix in the ginger. Put this all aside until it has cooled completely.
Roll it into balls. It's a bit soft so dust your fingers with cocoa powder. Put the balls in the freezer for half an hour or so. Melt the rest of the chocolate and dip the truffles in, laying them on a tray lined with baking parchment. Using a fork and spoon together works well here; it's best not to do the dipping by hand as it's very messy and you'll tend to melt the truffles.
We decorate ours with little bits of glace ginger, but take your pick.
Essential Rose Truffle
375g dark chocolate
150ml double cream
1 dessertspoon rose water
1 drop rose essential oil
This is the most seriously gorgeous chocolate truffle I know. Definitely one for the ladies too. Gentlemen, I present seduction wrapped in chocolate. It needs no adornment, so we present ours as simple dark chocolate coated truffles with no extra decoration.
Melt 250g chocolate in a double boiler, add in the cream while stirring gently. When it's mixed, take it off the heat. Stir in the rose water and the oil. 1 drop sounds like a very small amount but a little good rose oil goes a very long way. Put it aside somewhere cold.
When its almost firm, take the mix a teaspoonful at a time and roll into balls. Put them in the fridge (or somewhere rather cold, it's easier doing this in winter!) till they're firm.
When they're cold, melt the rest of the chocolate and dip the truffles in it, as described above for the ginger truffle. Drop them onto a tray covered in baking parchment till the chocolate sets.
White Chocolate Orange Truffles
2 tablespoons unsalted butter
5 tablespoons double cream
325g white chocolate
1 tablespoon orange liqueur
Bring the cream and butter to a slow boil for a minute or so, add in 225g of white chocolate and stir till melted. Mix in the liqueur when you're done. Let it cool till firm-ish.
Roll into balls and chill. Dip in white chocolate and allow to harden on baking parchment.
We don't decorate our white choc orange truffles because they're the only white choc truffles in the box.
Peppermint Crunch
115g sugar
150ml water
1/2 teaspoon peppermint essence
200g dark chocolate
4 tablespoons desiccated coconut
Put the sugar in a pan with the water and heat until dissolved. Now you need a sugar thermometer for the next bit; heat it until it reaches 138 °C. Take it off the heat, pour in half a teaspoon of peppermint essence and pour the lot out onto a greased baking tray. Congratulations! That's the hard part over. It should now set into a clear, glassy lump of sugar. If it's still crystalline and sugary then you didn't heat it enough and you need to start again.

When it has set, smash it into little pieces. A rolling pin will help, or a mallet. Be brutal, you're after almost powdering it. I put it in a plastic bag to do this.
Melt the dark chocolate. add the desiccated coconut and the minty sugar. Pour it all out onto non-stick baking parchment, about 9" square or so, spread it out so it covers about that area, let it set, and slice it into sticks.
Pieces of Hate
Yarrr, ye be needing:
400g dark chocolate
Powdered chilli to taste
50g white chocolate
2 drops cochineal
Takes the dark chocolate me hearties, and melts it in a bowl, ye hear me? Melts it good. Now, take some chilli powder, about half a teaspoon of medium, and stir it in till it be stirred. Taste it, gingerly now, gingerly, and if it burns it be hot enough. If it not then add more.
Ye be needing some round moulds, and I use silicone baking moulds. Pour the melted chilli chocolate into the moulds and let it set.
When they be hard and cold, ye takes 'em out of the moulds. Ye now prepares a piping bag with baking parchment, melts the white chocolate and adds the cochineal to it, before spoonin it in yer bag. Carefully make the design of the Jolly Roger on yer chocolates, and yer done, me hearties!
Chocolate Wiped Fruits
Dried fruit
Leftover chocolate
You'll be wondering what to do with the left-over bits of chocolate in your bowls. Well, the first one you can lick out, but then what? Trust me, you'll be sick of the sight of chocolate by the end of a Chocolate Day.
This is my solution; get lots of dried fruit (apricots, prunes, candied orange peel, apples, pears, peaches...), cut into appropriate size or use whole, and wipe the bowls out with the fruit. Leave them to set on baking parchment, and you've got some great little treats. White chocolate prunes are divine, dark chocolate pears are good, milk chocolate apricots... But pretty near any combination will be good. Extra sweeties with no real work in them.
Triple Marchpanes
450g marzipan
25g glace cherries
25g stem ginger
50g dried apricots
350g milk chocolate
25g white chocolate
Split the marzipan into three balls of roughly equal size. Keep the stem ginger, apricots and cherries separate, but chop each finely (a sticky job!). Mash each into one of the balls of marzipan.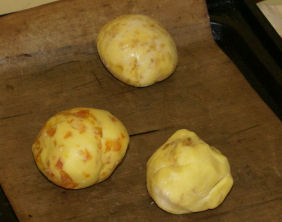 One at a time, fashion each of the flavoured marzipans into little balls, again keeping them all separate.
Melt the milk chocolate. When its molten, get a cocktail stick and dip the small balls in one at a time, forming little clusters of the three sorts together on your baking parchment. Let it cool and harden when you're all done.
Melt the white chocolate and use it in a piping bag as above for the Pieces of Hate (only less piracy this time), and decorate the tops with it. This is optional, but it does look great.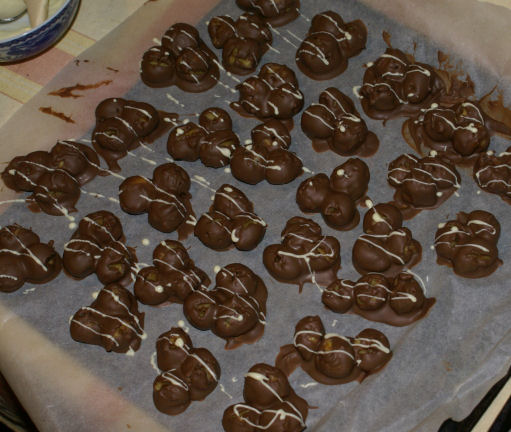 Half moons and star anise
400g milk chocolate
1 tablespoon star anise (finely ground)
Flavoured chocolate seems to be all the rage, and it's dead expensive. But not hard to make at all. I've been experimenting with various flavours over the last couple of weeks and this is one of my favourites.
Melt the chocolate, mix in the star anise... Errm, that's about it. Pour it into round bun moulds (as for the chilli chocolates above), put it out when it's cool and cut into two for something crudely half-moon shaped.
Other flavours that work well include chilli in white chocolate, coriander in dark chocolate, and pepper in milk chocolate. Use your imagination to come up with whatever combinations you think will work.
Macadamia Cluster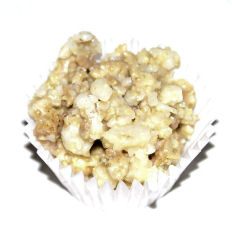 175g white chocolate
100g digestive biscuits
100g macadamia nuts
There are all sorts of 'clusters' you can make, all made by the same basic technique. I like this one because it's very simple and luxuriously rich.
Take the nuts and the biscuits and chop them up quite fine. Melt the chocolate, mix together and put it into tiny little bun cases (petit fours I think they're called). Let it cool, cover with more chocolate or decorate if you wish.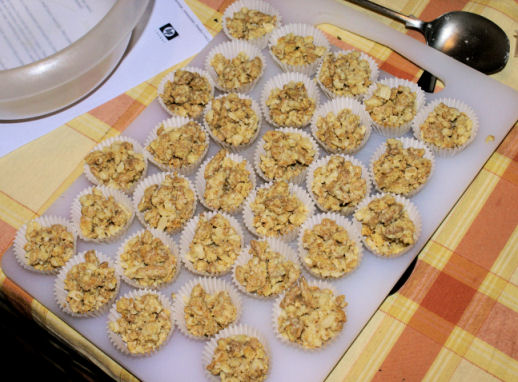 Coconut Ice
1 coconut
450g sugar
25g butter
Cochineal
Drain milk out of the coconut. I use a Phillips screwdriver, driven into the three eyes, and then invert the coconut over a cup. Save the milk, then break open the coconut. Get the flesh out and remove the husk. Then grate all the flesh. Yeah, I know, this is a lot of hard work, but it's worth it.
Put the sugar and about 120ml of the coconut milk (top up with water if you really have to) into a saucepan, gently bring it to a boil. Add the grated coconut and keep boiling gently, stirring the whole time, for about ten minutes.
Split this between two bowls. Into one, drip a couple of drops of cochineal and mix in. Then spread the white stuff into a greased tin (20cm or so), and cover with the pink stuff. Let it set, cut it into squares (easier to get out of the tin in squares) and it's done. If it's a little wet I find that it's worth leaving it out overnight to dry off before putting away in boxes.
Chocolate Pistachio Fudge
250g sugar
400g condensed milk
50g butter
1 teaspoon vanilla extract
115g plain chocolate (grated)
75g pistachios
Grease a tin (7inch or so) and line it with baking parchment. Mix the sugar, condensed milk, and butter in a heavy-bottomed pan and heat gently to 119 °C. Take off the hob, beat in the vanilla, chocolate and nuts and beat it until it's smooth and creamy. Pour into the tin and allow to set. Score it when it's nearly set and cut it properly when it's ready to be turned out.
Rum Truffles
150ml double cream
400g dark chocolate
5 tablespoons dark rum
50g butter, softened
grated milk chocolate (to coat)
The rum truffle is an absolute classic of the home chocolatier, and after a gap of several years from our Christmas chocolate boxes it made a return this year.
Get the cream to scalding hot, take from the heat and mix in the chocolate and the rum. Beat in the butter, and take the truffle mix and set it aside to cool.
Roll into balls, and roll them in the grated chocolate.
Cardamon Button
1 dessert spoon full of cardamon pods
400g dark chocolate
30g white chocolate
1/4 teaspoon powdered turmeric
Of the flavoured chocolates I've made, this is one of the nicest. Finely powder the cardamon pods (spice mill or pestle and mortar will do). Melt the chocolate, mix the cardamon in, and spoon it in little round splodges on to some baking parchment or flexible teflon sheet.

When its cool, melt the white chocolate and mix the turmeric with it. Make a piping bag with a sheet of greaseproof paper, cut a very fine hole, and make swirls on the cardamon buttons with the yellow dyed chocolate.
Mime Toffee
This recipe is adapted from one at the excellent 'cooking for engineers' website, which you really should visit.
200g sugar
225g butter
2 teaspoons water
1/8 teaspoon salt
1 teaspoon vanilla extract
170g chopped milk chocolate
This comes out rather like a dime bar, hence the name.
Making toffee is a matter of nerve. You need to keep it, but you have to be sharpish with your sugar thermometer to get it right too.
You need a pan that is at least twice the size you'd think. Put the sugar, water, salt and butter in it, and melt it all together. As it heats up, it'll go bubbly as you boil off the water, and then it'll lose volume again. Heat it till it gets to about 155C (and, importantly, before it gets to 160C), at which point add in the vanilla, pour it out on to either a flexible teflon or baking silicone sheet, or if you haven't got one a bit of baking parchment. Get a spatula and spread it out.
Now while its still hot get your chocolate and pour it on top. Spread it out, it'll melt and stick. Let it cool, and break it all up, carefully, with a few taps of a rolling pin.
Peppermint Creams
300g icing sugar
1 egg white
Peppermint essence
Green food colouring
Chocolate to coat
In addition, you'll want a little more icing sugar for rolling out.
Sift about two thirds of the sugar, beat the egg white a little (get it foamy), and slowly mix it in to the sifted sugar along with a few drops of peppermint essence. As it gets stiff, sift in as much more of the sugar as you can until it forms a really stiff dough (you'll end up mixing it with your hands). Taste it to see if its minty enough, add more mint if you need to, and a little green food colouring.
Roll it out to the thickness you want (you'll need more icing sugar for this or it will stick), cut rounds out, and leave them on an oiled board to harden a little.
You don't have to dip it in chocolate, but I like this dipped half in melted dark chocolate once it has hardened.
References and Further Reading
Some chocolates we make every year, experimenting with our own recipes and some from books. There are two books on the subject we keep coming back to (and from which many of these recipes have been taken or adapted). The first is "Chocolates, Sweets and Candies" by Sarah Ainley (Lorenz books 1999) and the second is "Practical Chocolate Cooking", published by Parragon in 2001.