Bingo's Chocolate Mousse
Written by Bingo
Regarded by quite a few of our members as the ultimate pudding. Bingo talks you through it...
This is really a bavarois although I call it mousse. I love its richness.
Obviously the more you spend on the chocolate the better the end product.
This will be enough for 8-10 people
Ingredients
200ml Milk
200ml Double Cream
6 egg yolks
100g Caster Sugar
2.5 leaves of Gelatine (6g powder Gelatine)
350g Quality Dark Chocolate
200ml Double Cream (Semi Whipped)
Method
Start by adding the milk and cream and heat gently in a pan
While this is going on melt the chocolate over a bain marie.
Now soak your gelatine leaves in cold water.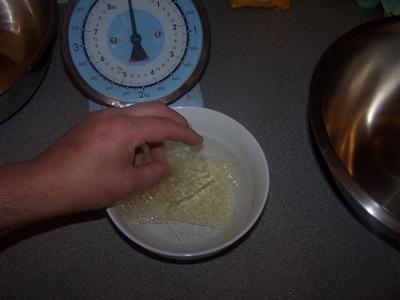 Add your sugar to your egg yolks and whisk into a sabyon over the bain marie.
Take the chocolate off for a minute but don't forget to put it back on the bain marie when the yolks are ready.
Don't let the egg get too hot, we don't want scrambled.
This is what you want:
Now turn the heat up a little on the cream and milk, when it's just about to boil take off the heat and pour slowly over your eggs while whisking like mad.
Pour this mix back into the milk and cream pan and continue to whisk like a loony over a low heat for about 2 minutes.
Don't let the eggs cook though. It may only take 1 minute.
Use your head. It wants to be a little bit thicker and fluffy.
Take off the heat.
Now squeeze all the water out of the soaked gelatine and dissolve into the mix while whisking.
Or chuck your powder in but leaves are better.

Now fold in he chocolate trying to keep as much air in the mix as possible. Don't worry if it starts looking like a liquid again. There's still lots of air in there.
Now get the whole thing chilling down in a sink with ice.
While it's chilling out semi-whip the rest of the cream.
Fold in the cream.
Set into pots......or whatever, do a big one if you like.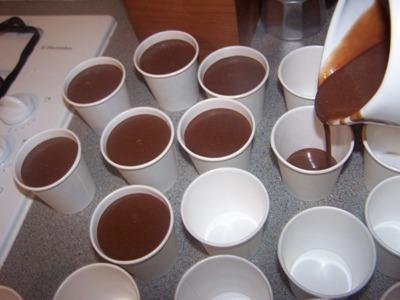 Refrigerate for 8 hours minimum then garnish with whatever takes your fancy.
I pipe with whipped cream and grate chocolate on top.