Bingo's Banoffee Pie
Written by Bingo
"This is a really easy desert that can be made a day in advance and will wow your guests." says Bingo, and goes on to show you how...
You will need a spring form cake tin 9.5" by 2.5".
Ingredients
2 tins of condensed milk
350g digestive biscuits
2 large bananas
200g good dark chocolate
200g butter
500ml double cream
1 heaped tablespoon icing sugar
Cocoa for dusting
Method
Start by making your toffee, this will take 4hours. Keep condensed milk in the can while cooking.
Put your condensed milk in a pan and cover with water,
simmer for 4 hours. Don't pierce the tin and keep topping up the water. As long as the tins are covered with water the whole time and you don't at any stage boil the water you shouldn't have any problems. I've never had a can explode.
Caution do not let boil or boil dry
Once cooked set allow to cool. These can be made days in advance if not weeks.......or years.

Melt the butter.
Brush around the tin with some of the butter then line with grease proof paper.
Crush up your biscuits then add the rest of the butter.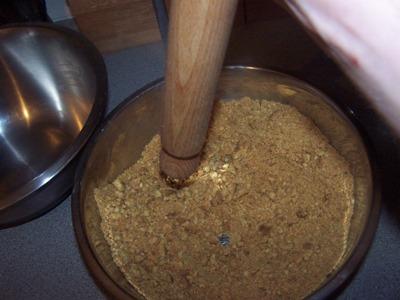 I use normal salted butter in this recipe as the salt works well with the toffee.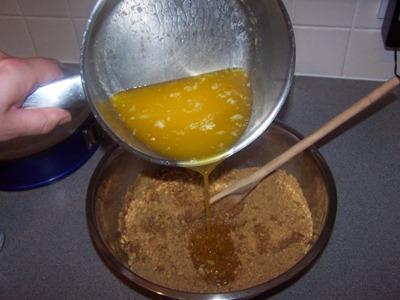 Press out your biscuit and butter mix into the tin.
Chill down for 15 mins so it's easier to work with.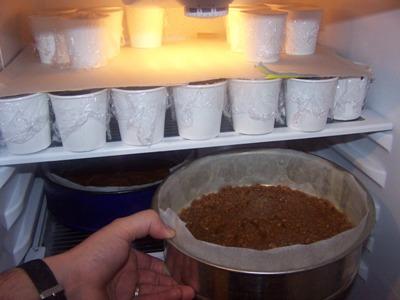 While this is happening empty your toffee into a bowl and knock all of the lumps out of it with a spatula or wooden spoon. This will make it easier to spread.
Caution, Don't lick the tin. You will cut yourself and it's not easy to get a plaster to stick to your tongue.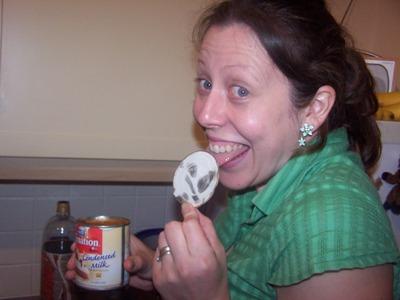 Spread the toffee onto the base. You might only need one and a half tins, see how it goes. If there is any left over it works great on ice cream, crumpets or just eat it.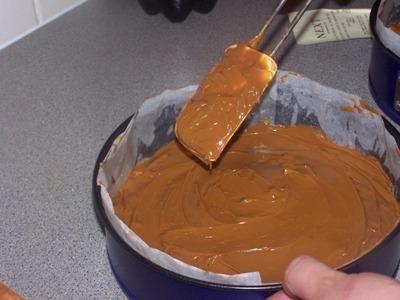 Cut the bananas into circles and put on the toffee.
Melt the chocolate over a bain marie.
Set on top of the bananas and chill for 5 mins.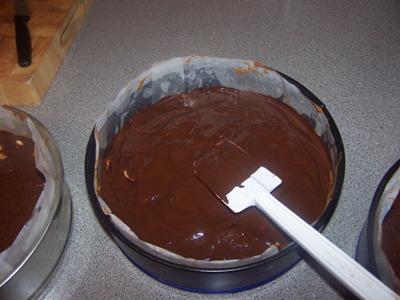 While the chocolate sets, whip your cream with the icing sugar, I start this with the electric whisk.
I almost over whip the cream to bring out the fats in it. I do this bit with a hand whisk so not to go too far and turn it to butter.

I find the fattiness in the cream cuts through the sweetness of the toffee, causing a perfect balance.
Spread the cream onto the chocolate. Don't worry if the chocolate is not fully set, it doesn't matter.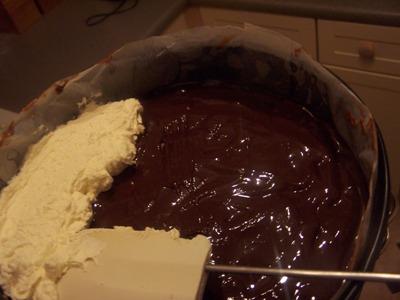 Dust with the Cocoa or drinking chocolate if you want a sweeter finish and chill for at least six hours, over night is ideal for everything to set.
Using a hot sharp knife cut into 12 nice size pieces.
Caution, do not eat more than two pieces, it will make you fat and sick.